I am blessed to be a part of the "Parkwood Pounders", a group of Christian home renovators from my church Parkwood Baptist (Annandale, VA) that answers the call of those in need. This past weekend we traveled to Appomattox, VA. The town was devastated by a EF3 tornado that tore through the Evergreen and Red House communities this past February. The 1,200-foot-wide tornado touched down with wind speeds as high as 16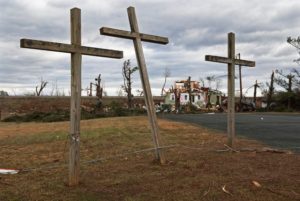 5 miles per hour. It carved a 13-mile path of destruction and damaged more than 100 homes and buildings. One family was sucked up into the funnel and thrown 500 feet, all but one elderly gentleman survived.  7 were injured by the tornado.
Amazingly, it went right between two churches, the crosses untouched, still standing, pictured here.
It has been 7 months since the storm took the homes of many families, most without insurance. This weekend we were a part of rebuilding the home for one family devastated by the tornado. I installed window and door trims, the other brothers of Parkwood Pounders painted walls and installed flooring. They are still in need of a heating & cooling system, bathroom and basement improvements.
I can't explain how good it made me feel when the six-year old girl came into the house and pointing to a room said "That's my room!" They are so very grateful and are praying they can come home by Christmas.

More help and donations are still needed. If it is in your heart to help the families in Appomattox, please contact: Stephanie Hunt, Virginia Conference United Methodist Church Disaster Recovery Volunteer Coordinator / Case Management.  DisasterRecovery@vaumc.org or 1-(804) 938-1026. More About the Virginia United Methodist Volunteers in Mission. 
https://homeperformancemasters.com/wp-content/uploads/2016/06/logo3-300x138.png
0
0
Marty
https://homeperformancemasters.com/wp-content/uploads/2016/06/logo3-300x138.png
Marty
2016-11-16 16:46:19
2016-11-16 18:14:54
Love, Faith & Hope after Devastating Tornado